Many highlights with and for the start-up scene are on the Agenda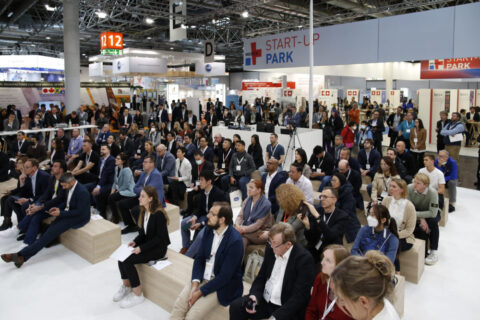 For years, the leading international medical trade fair MEDICA in Düsseldorf has also established itself as the leading global event for start-ups that want to enter the healthcare sector. Among the more than 5,000 exhibiting companies at MEDICA 2023 and the parallel supplier trade fair COMPAMED 2023 (date: November 13 – 16), several hundred young development teams will, once again, be looking for business contacts for cooperation, including with regard to financing, production, product approval, marketing or distribution of their product ideas.
Numerous program highlights specifically focus on the start-up scene and offer start-ups an ideal stage to present their innovative solutions and do business with the international healthcare community. These include, for example, the 12th MEDICA Start-up COMPETITION, the 15th 'Healthcare Innovation World Cup', the MEDICA START-UP PARK and around 100 other start-up participations in the programme of the MEDICA CONNECTED HEALTHCARE FORUM,
Both for the12th MEDICA Start-up COMPETITION (final on 14.11.) and the15th 'Healthcare Innovation World Cup'(Final on 13.11.),  the kick-off for the application process has already taken place. Interested start-ups can find out more about the regulations and options for participating in the competitions on the program page of the MEDICA CONNECTED HEALTHCARE FORUM (https://www.medica.de/mchf1).
The MEDICA Start-up COMPETITION is about the entire range of innovations for the healthcare sector: from artificial intelligence (AI) to health apps, solutions for laboratory diagnostics and medical robotics. For the first time this year, the "Sustainability" category has been added.