Renowned sports medicine and science professionals from the Asian Football Confederation (AFC), FIFA, UEFA and Aspetar will form a stellar line-up of speakers at the much-anticipated 7th AFC Medical Conference Qatar 2022 from 8 to 10 March.
Dr. Michel D'Hooghe, Chairman of the FIFA Medical Committee, will deliver a keynote address on the theme 'Football and sports medicine – Celebrating Diversity' to set the tone for the three-day Conference.
AFC Medical Committee Chairperson Dato' Dr. Gurcharan Singh, an experienced sports medicine physician and expert in anti-doping programmes, will be joined by the FIFA Medical Director, Dr Andrew Massey, Professor Roald Bahr, head of the Aspetar Sports Injury & Illness Prevention (ASPREV) Programme and many other sports medicine and science experts from Aspetar and around the world.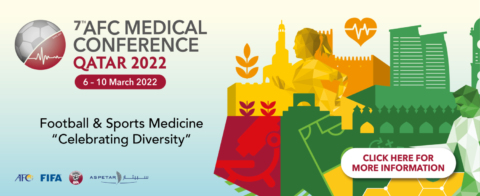 Other invited speakers include Deputy Chief Medical Officer for Clinical Information Systems at the Hamad Medical Corporation Dr. Abdulwahab Al Musleh and Professor Yung Shu-hang Patrick, Consultant Orthopaedic Surgeon, who holds various other medical positions in Hong Kong.
Key speakers from FIFA, UEFA, CONMEBOL and Aspetar will share their knowledge in the field of football medicine, fitness and conditioning, and anti-doping, focussing on and celebrating diversity, evidence-based clinical pearls and cutting-edge research. Topics include women's football, concussion, knee and anterior cruciate ligament injuries, cardiac screening and cardiac arrest on the pitch, COVID-19 and return to play decision-making, mental health and sexual harassment in sport.
In addition to invited symposia and lectures, the 7th AFC Medical Conference Qatar 2022 Organising Committee is also inviting speakers and presenters to contribute to the scientific programme through the submission of abstracts for the free paper sessions.
For more information on the programme and speakers at the 7th AFC Medical Conference Qatar 2022, and how to submit your abstract or free paper application. Please visit. https://www.afcmedicalconference.org/
—————
Aspetar is a world leading specialised orthopaedic and sports medicine hospital, and the first of its kind in the Middle East. Since 2007, with a world expert team, the hospital has provided top-level comprehensive medical treatment to all athletes in a state-of-the-art facility that sets new standards internationally.
In 2009, Aspetar was accredited as a "FIFA Medical Centre of Excellence" by F-MARC. In 2013, Aspetar was adopted as a reference collaborator centre by the Gulf Countries Council (GCC) Health Ministers Council and "IOC Research Centre for Prevention of Injury and Protection of Athlete Health" in 2014.
In 2015, Aspetar has been recognised as the "IHF Reference Centre for Athlete and Referee Health". In the same year, the hospital also achieved the obtained-on December 15 the Accreditation Canada International (ACI) "Platinum Level".
Aspetar is a member–organisation of Aspire Zone Foundation, Qatar's innovative sports and healthy lifestyle destination.