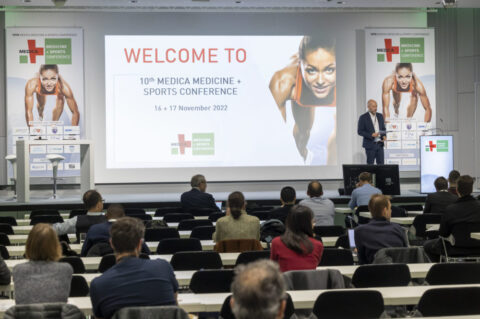 Top-class MEDICA MEDICINE + SPORTS CONFERENCE sheds light on new procedures in a practical check of their use
In elite sports, measurements are taken at every turn with innovative technologies and diagnostic procedures. Artificial intelligence (AI) is increasingly being used in the evaluation of the resulting data, with many new findings for the individualization of training, injury prevention, regeneration or rehabilitation. The11th MEDICA MEDICINE + SPORTS CONFERENCEwill address these topics on Wednesday and Thursday, November 15 and 16, 2023, as part of the world's leading medical trade fairMEDICA (duration: November 13 – 16).
The English-language conference at the Congress Center Düsseldorf (CCD Süd) brings together internationally renowned experts from sports medicine, sports science, physiotherapy and technology specialists for an interdisciplinary dialogue on innovative approaches in prevention, regeneration and rehabilitation in elite and health sports.