German football star and Turkish footballer Mesut Ozil paid a visit to Aspetar on 1/09/21, where he toured the hospital and learned about the cutting-edge facilities and services provided to elite athletes from a range of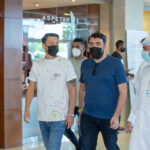 sports.
Welcomed by Aspetar CEO, Dr Abulaziz Jaham al Kuwari, the former Real Madrid and Arsenal player got a full picture of the comprehensive services Aspetar provides to footballers and was given a glimpse of the world-leading hospital's vision for the future.
Ozil noted he was proud to see Qatar organising the World Cup 2022 and expressed his great admiration for Aspetar's facilities, commenting: "It's the first time I'm seeing a concept like this.  It's showing that it has been thought through from A to Z, which makes it unique and important for all the sports clubs.  Such kind of facilities should be available across the world. Usually in the clubs, in case of injury, the players are treated at specialised hospitals, if you have knee injury you go to a specialised hospital, if you have a mental injury you go to a mental hospital, but here I see that Aspetar has everything under one roof, really, it's one of the best facilities I've ever seen."
Ozil is in Doha for a private visit to the country that will host the first World Cup in the Middle East; and where Aspetar is one of the best centres for athlete care in the world, having adopted a comprehensive vision that makes it a global reference centre in the field of sports medicine.