Guided by Sheikh Abdulla Fouad, the Founder of Abdulla Fouad Holding Co. has built a significant enterprise in the Kingdom. Its headquarters is in Dammam, the capital of Eastern province of Saudi Arabia but its boundaries are extended beyond, with global business presence.
The business of Abdulla Fouad Holding Co. now encompasses multiple Companies and Divisions in Commercial, Industrial ,Petroleum, Chemical Real Estate, Information Technology, Industrial Security and Safety , Commercial, Amusements, Residential Facilities, Auction, Petroleum Technology, Exploration, Medical, Rubber Technology and manufacturing, Construction and Services sectors, along with affiliations to the leading specialist in the many important field as listed.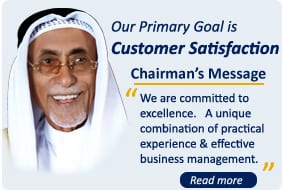 Its successful formula always remains "Service with Integrity"
Their Medical Division is one of the leading suppliers representing many renowned manufacturers of state of the art medical equipment, health related supplies and diagnostic products. The Division specialises in handling radioactive material, and is one of the few companies authorised to transport such material throughout the Kingdom of Saudi Arabia.
Head Quarter (Eastern Province):
P.O.Box.257; Dammam 31411
Kingdom of Saudi Arabia