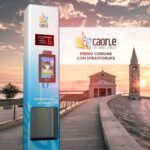 A relatively newly company in Caorle (Northern Italy) used a column to identify the recognition of people with fever.  SprayForLife – the first patented device that combines a thermoscanner for measuring fever with two dispensers for hands and feet – was launched.
Caorle was the first Italian beach to rely on the control and safety of the SprayforLife 1.0 system. Caorle Municipality made the decision to secure its beaches and activities for tourists who love the Venetian city for the summer of 2020.
Beach accesses, hotels, restaurants and all the activities of the ′′ Adriatic pearl ′′ were subjected to the innovative system of measurement of body parameters that made the entire city safe and controlled.
A thanks to Mayor Luciano Striuli and the entire municipal administration for embarking on the successful Sprayforlife 1.0 test.
SprayForLife Applications for all sectors: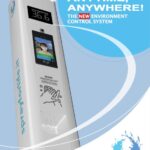 Sports Facilities
Public Activities
Shopping Centres
Hospitals and Clinics
Schools and Universities
Museums and Libraries and Religious Institutions
(such as the Basilicata of St. Francis of Assisi, where a SprayForLife device has since been installed).