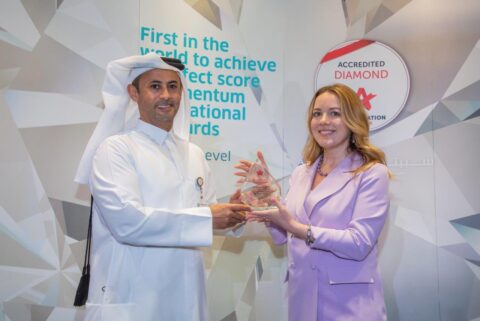 Aspetar, the Orthopaedic and Sports Medicine Hospital, has been awarded the official Accreditation Canada Diamond Level Status today in a ceremony at the hospital's headquarters in Doha. 
Re-accredited at Diamond Level until Nov 2024, Aspetar became the first healthcare organisation in the world to achieve a perfect score on Version 4 of the Qmentum International™ Standards. As a result, Accreditation Canada's Accreditation Decision Committee (ADC) has re-awarded Diamond Level Status to Aspetar, the highest level of recognition. More than 35 countries and 15,000 healthcare sites use Accreditation Canada programs.
Accreditation Canada surveyors commended Aspetar on achieving 100% compliance to the 1,166 standards criteria during their November 2021 accreditation survey visit.  A unique characteristic of the Qmentum International Accreditation program is the ease with which the principles of accreditation and ongoing quality improvement can be integrated into operations and services.
The ceremony was attended by several persons, including H.E Mrs. Stefanie McCollum, Ambassador of Canada to the State of Qatar, officials from the Canadian embassy, Accreditation Canada, and Aspetar.