Aspetar and the Qatar Athletics Federation have signed a cooperation agreement, under which Qatari athletics athletes will benefit from Aspetar's outstanding medical services, the latest scientific research and sports science, as well as using Aspirezone facilities.
The agreement was signed today at Aspetar by Mr. Mohammed Khalifa Al Suwaidi, Director General of Aspetar, and CEO Aspirezone Foundation and Dr. Thani Abdulrahman Al-Kuwari, President of Qatar Athletics Federation.
On the opening of the signing ceremony, Mr. Mohammed Khalifa Al Suwaidi, Director General of Aspetar, said:
We are proud of the successes achieved by Qatar Athletics in international competition. This agreement will serve Qatar's sport by conducting a full comprehensive medical test for athletes pre, during and post competitions, providing them with comprehensive medical support and using Aspire Zone facilities to serve Qatar's sport and athletics."
"We are always pleased to collaborate with Qatar athletics Federation for the service of sport and performance, and we are very pleased to cooperate with a such distinguished associations  such as the Qatar Athletics Federation and our wishes to Qatar athletics Stars to reach the podiums at the Tokyo Olympics," added Mr Al Suwaidi.
Dr Thani Abdulraham Al kuwari, President of the Qatar Athletics Federation explained that this agreement will be very useful for Qatari sport, pointing out that cooperation with Aspetar has continue for years, and that Qatari sport is coming to many competitions, including the Diamond League -Doha round at the end of May this year, and the Tokyo 2020 Olympic Games to be held next summer.
We are proud to have a such medical landmark in Qatar, and with its international achievements, Aspetar is one of the most prestigious centers of sports medicine, accredited by the International Olympic Committee. Aspetar contributed to enhancing the reputation of Qatari sports by providing high-level medical services, which has prompted many international sports stars choose Aspetar as a best destination for treatment and preparation, and we at the Qatar Athletics Federation seek to benefit from it in developing the capabilities of our athletes and improving recent years achievements" said Dr Al Kuwari.
The signing ceremony was attended by senior Officials of the Qatar Athletics Federation, Aspetar officials and a number of Qatari athletics stars led by Samba, Abubakar Haidar and Ashraf Al-Saifi, while world and Olympic champion Moataz Barsham missed the ceremony because of his presence in a preparatory camp outside the country.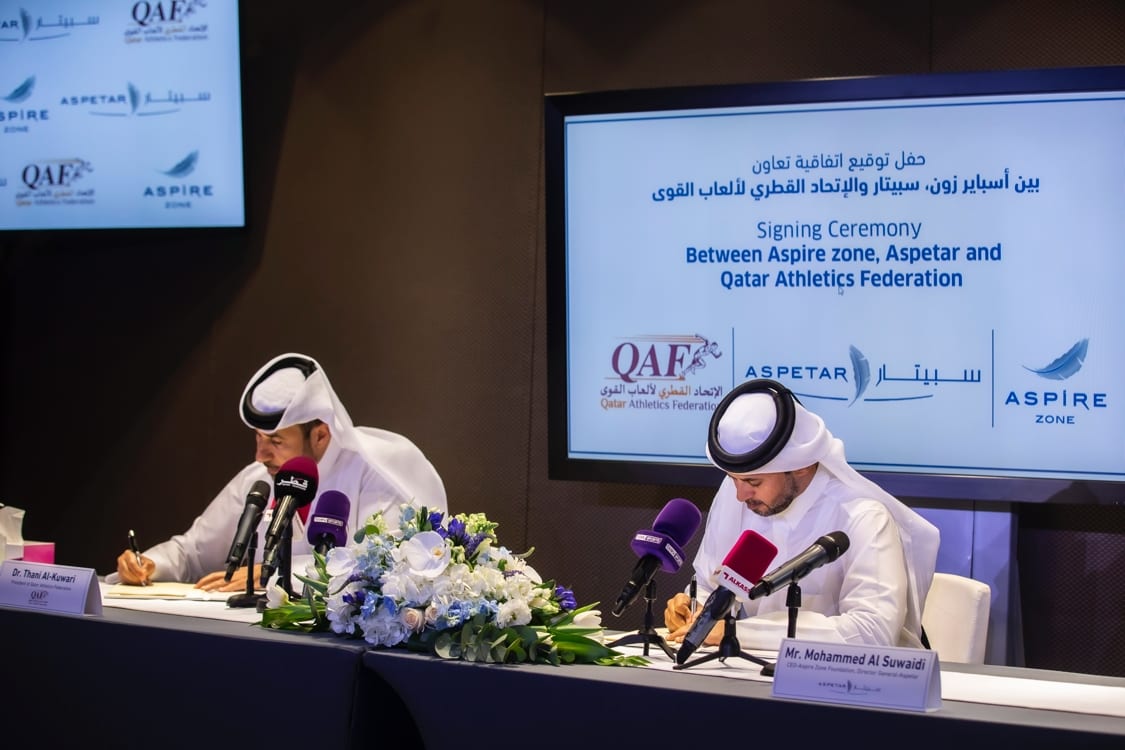 Under the signed agreement, Qatari athletics stars will benefit from comprehensive medical support leading up to the Tokyo Olympics, where the Qatari elite aspires to confirm their progress, especially after the successful organisation of the 2019 IAAF World Athletics Championships and the positive results achieved during this tournament.
Aspetar was the official medical provider of the 2019 IAAF World Athletics Championships, where it was highly praised by many sports officials locally and internationally. Aspetar attracts many of the world's athletics stars both for treatment and medical advice, thanks to the world hospital's distinctive approach to the treatment of athletes.
Reference: Press Release; 18 Jan. 2021