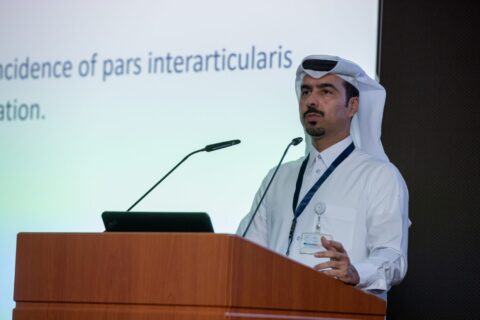 In a groundbreaking initiative, Aspetar, in collaboration with the esteemed AO Foundation, hosted the AO Spine –
Hospital-based Seminar: Empowering Athletes "Spine Health" on 4th November. This momentous event brought together an illustrious assembly of international experts and specialists in the field of athletes' spinal injuries.Held within Aspetar's world-class facilities, the one-day seminar focused on advancing knowledge and practices in sports medicine, particularly delving into the crucial aspects of spinal health, injury prevention, and rehabilitation for athletes. This emphasis is aimed at ultimately enhancing athlete well-being and performance on a global scale.
An impressive gathering of esteemed spine surgeons, comprising orthopaedic and neurosurgeons, healthcare professionals, and sports medicine specialists deeply invested in spinal health and athlete well-being, convened for this landmark event.
Dr Abdulaziz Al Kuwari, the CEO of Aspetar, expressed profound satisfaction with the seminar's outcomes, stating,: "The AO Spine – Hospital- based Seminar: Empowering Athletes; Spine Health was an outstanding success. We were delighted to bring together such a distinguished group of experts to share their knowledge and insights on this critical issue. The event provided a valuable platform for collaboration and the development of
innovative strategies to improve spine health and prevent injuries in athletes".
He further elaborated;"The seminar also highlighted the importance of evidence-based assessment techniques and comprehensive treatment plans tailored to the individual needs of athletes. We are committed to continuing to
work with the AO Foundation and other partners to advance the field of sports medicine and ensure that athletes around the world have access to the best 
possible care"
The seminar's core revolved around in-depth discussions encompassing the unique anatomical and biomechanical considerations associated with athletes' spines. It underscored the paramount impact of spine health on athletic
performance, injury prevention, and overall well-being. Additionally, common spine-related issues and injuries faced by athletes throughout their careers 
were meticulously examined and deliberated upon. 
The seminar provided a platform to apply evidence-based assessment techniques in identifying spine-related problems in athletes. The collaborative efforts facilitated the formulation of comprehensive treatment plans for athletes
afflicted by spine injuries, considering both conservative and surgical approaches. Notably, insights gained from the event were instrumental in the development of protocols for a safe and gradual return to play following spine-
related injuries. Furthermore, the seminar facilitated an evaluation of the long-
term implications of spine health on an athlete's career and quality of life.
The AO Foundation, a medically guided, not-for-profit organisation, stands as a global network of surgeons and the leading authority in education, innovation, and research pertaining to the surgical treatment of trauma and
musculoskeletal disorders. Their collaboration with Aspetar signified an important step forward in aligning expertise and resources to further the cause of athlete well-being and performance enhancement.
About Aspetar:
Aspetar is a world-leading specialised orthopaedic and sports medicine hospital and the first of its
kind in the Middle East. Since 2007, with a world expert team, the hospital has provided top-level comprehensive medical treatment to all athletes in a state-of-the-art facility that sets new standards
internationally.In 2009, Aspetar was accredited as a "FIFA Medical Centre of Excellence" by F-MARC. In 2013,
Aspetar was adopted as a reference collaborator centre by the Gulf Countries Council (GCC) Health
Ministers Council and "The IOC Research Centre for Prevention of Injury and Protection of Athlete
Health" in 2014.
In 2015, Aspetar has been recognised as the "IHF Reference Centre for Athlete and Referee
Health". In the same year, the hospital also achieved obtained-on December 15 the Accreditation
Canada International (ACI) "Platinum Level".
Aspetar is a member–organisation of Aspire Zone Foundation, Qatar's innovative sports and
healthy lifestyle destination.
For more information: please contact
Lyes Fodil
PR and Media Relations Section
Mobile: +97455543390
Office: +974 444132112
Lyes.fodil@aspetar.com
www.aspetar.com
Twitter: @Aspetar
Facebook.com/Aspetar